How to choose the Exit Device to provide Safety and Security?
Views:0 Author:D and D Hardware Publish Time: 2021-07-20 Origin:D and D Hardware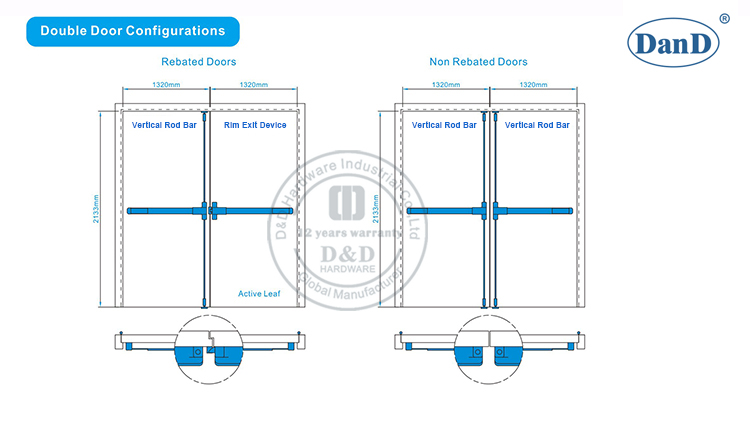 Public buildings like most industrial and commercial premises are required to meet the conflicting need for both safety and security. Regulations relating to escape from buildings and general safety have made it desirable that doors at exits in public buildings, places of public entertainment, shops, etc, be fitted with panic exit devices.
The main purpose of a panic exit device is to give safe and effective escape through a doorway with minimum effort and without prior knowledge of the device.
Check list for ordering exit devices:
WIDTH and HEIGHT:
Is the panic exit device shown for use on a door of your size? Does it meet maximum and minimum listed requirements for use on fire doors of this size?

STILE WIDTH:
Is the door stile size adequate for installation of the device cases, appropriate strike, trim and fastening screws? Use manufacturer's catalog and/or templates for verification.
DOOR THICKNESS:
Operating trim and fastening hardware often are sized according to the door thickness. Anything other than 1 ¾" must be noted and listed.

DOOR MATERIAL:
Fastening hardware may vary depending on the material of the door and frame. For example, fire exit hardware listing requirements may dictate that certain types of fasteners be utilized on certain types of doors.

DOOR DESIGN:
Glass glazing stop thickness is a concern.

OTHER HARDWARE:
Attention must be addressed to other items of hardware because they could interfere with the operation of the exit devices. For example, overhead stops, concealed closers or stop mounted coordinators might conflict with the top strike of a vertical rod device. In most cases, the problem can be overcome by special preparation or modification.
Kick plates such as plastic, herculite, tempered glass, etc. will affect vertical rod devices because of their thickness. Consideration should be given to open back strikes, electric strikes, weather stripping, astragals, thresholds and mullions.
Sometimes push or pull trim may have to be moved, altered or eliminated to avoid conflict with your device.

FRAME/SILL:
Check construction and configuration of these items to assure what strikes are appropriate.

DOOR PREP:
Because many "stock" doors are available and in use, it is wise to verify that your device will cover, conceal and conform to the door's standard preparation. Also, when using fire exit hardware, remember that codes require that the fire door bear a label stating the door is "For Fire Exit Hardware ".

HANDING:
Exit devices always are referred to as either Right Hand Reverse (RHR-RHRB) or Left Hand Reverse (LHR-LHRB). Although many devices are reversible or non-handed, the trim, strike or some other part may be handed. Therefore it is always wise to indicate the handing required.

TEMPLATES/CATALOG:
Examination of the current manufacturer's templates and catalog may alert you to restrictions of operation, minimum and maximum clearances at jambs and sills, special shipping package should special fasteners or other items be required that may have been overlooked.
All the above are necessary items to be recognized, checked and addressed. Failure to do so may very likely produce job-site problems which will encompass extensive time delays and costly replacements. Some of these problems may be unpredictable and unavoidable.
However, with tenacious attention to the preceding details, you can be assured such problems will be at an absolute minimum.
There many exit device available in D and D HARDWARE, especially, Rim Exit Device & Surface Vertical Rod Exit Device- half-length/full -length pressing touch bar are UL listed (3 hour fire rated), comply to ANSI/BHMA Grade 1 standard, suitable for use of External locking attachment, consult D and D HARDWARE for more information.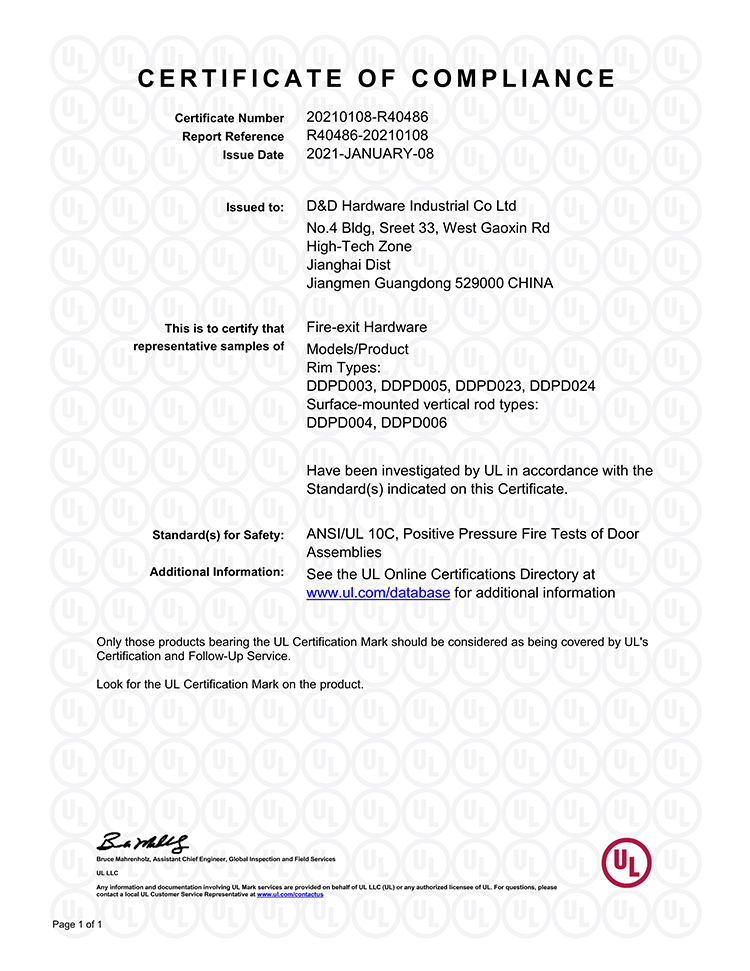 D and D HARDWARE's range of Panic Exit Devices reliably secure egress doors in accordance with allapplicable fire and safety code requirements. Where the ultimate in push control is required Panic Exit Devices are designed to meet all your safety and security needs.
For further information about fire exit hardware, please click here.
Contact us Now:
Contact: David Jian
Mob: 0086-139 2903 7292
Email: sales@danddhardware.com