ANSI Grade 1 /UL 10C Fire-Exit Hardware
Views:0 Author:D and D Hardware Publish Time: 2021-05-27 Origin:D and D Hardware
American National Standard Institute (ANSI) ANSI 156.3
Item

ANSI 156.3


Cycle-test

Grade 1-500,000

Grade 2-250,000

Grade 3-100,000

Fire Test

Pass UL 10 C 3 hours fire test

Anti-corrosion

Salt Spray Test 200 hours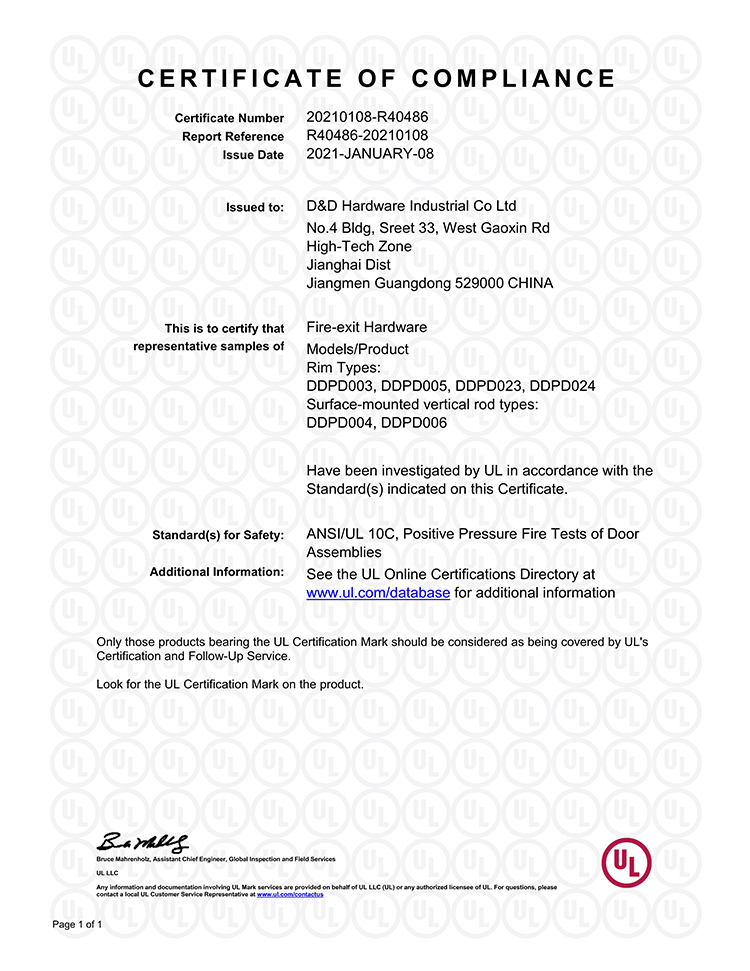 1. SCOPE
1.1 This standard establishes requirements for panic exit device and trim, automatic and self-latching flush bolts, removable mullions, coordinators, and carry-open bars. Performance criteria include cycle, operational, strength, material evaluation, and finish tests. Functions and types are described and numbered.
1.2 Tests described in this standard are performed under laboratory conditions. In actual usage, results vary because of installation, maintenance and environmental conditions.
D and D Hardware provides distributors and manufacturers with high-quality and durable hardware products. Our products comply with ANSI/UL ,CE EN Standard, including panic exit hardware, door hinge, door lock, door handle, door closer, door viewer etc..
Our products continue to improve the processing technology, upgrade the processing equipment, and improve the cost performance for customers.
If you want to know more about our products, please click here.
Contact Us Now:

David Jian
Mobile:0086-139 2903 7292
E-mail: David@dndhardware.com, sales@danddhardware.com,

Jobby Zhang
Mobile:0086-137 2599 9617
E-mail: jobby@dndhardware.com