How to choose a Door hinge?
Views:0 Author:D and D Hardware Publish Time: 2021-06-29 Origin:D and D Hardware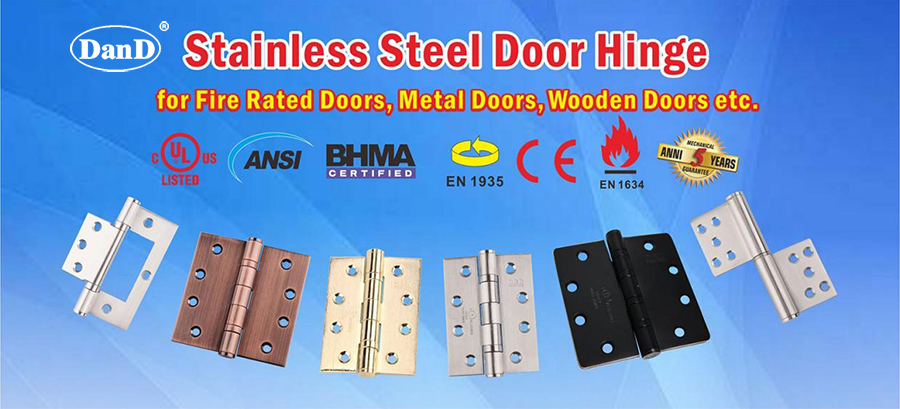 The product we introduced in this article is a door hinge, which is used to connect various doors and is a very important safety accessory. Next, we will introduce the functions and types of door hinges, and give some suggestions on how to choose door hinges.
1.What's a door hinge?
2.The common types of door hinges.
3.What are the precautions when choosing a door hinge?
1.What's a door hinge?
In terms of function, the door hinge is a device that enables the door to open and close in a natural and smooth rotation. The hinge is a kind of door hardware and an important component of the door. It consists of a hinge holder and a hinge body. One end of the hinge frame is connected to the door frame by an arbor, and the other end is connected to the door.
The common types of door hinges.
·Stainless steel ball bearing hinges
Our company mainly produces door hinges made of stainless steel, which is one of the most common hinges on the market. The most important feature of these hinges is their durability and ease of use. As a professional hinge supplier in China, we have strict quality control and requirements to make hinges suitable for different door.
·Fire door hinges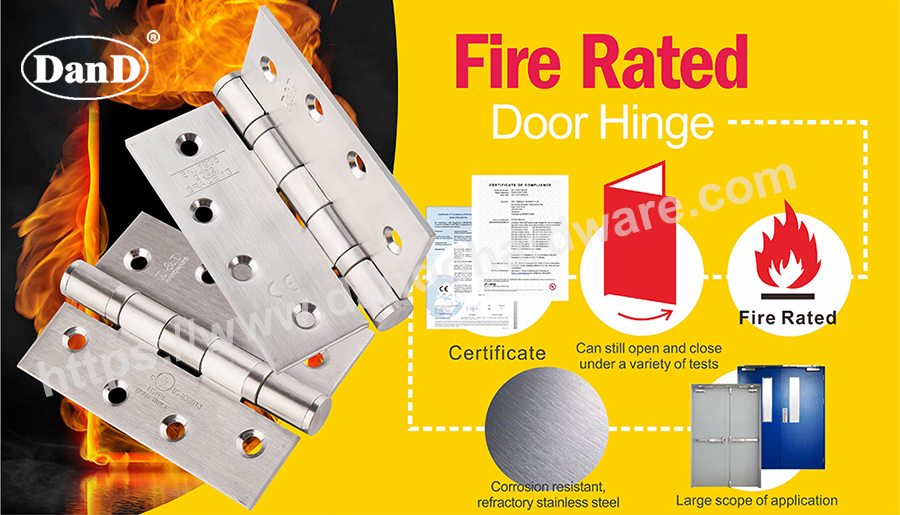 We have many types of fire door hinges, such as ANSI fire door hinges, UL fire door hinges, CE fire door hinges, which can be used for wooden doors, metal doors, fire doors, etc. In terms of structural design, the fire door hinge is equipped with two hinge ball bearings with five steering knuckles. Its main material is also stainless steel, which can maintain its original shape well without turning yellow or rusting. The wear resistance greatly reduces the possibility of aging and deterioration of the door hinge.
What are the precautions when choosing a door hinge?
·Observe the details of the product
From the details, we can see the quality of the door hinges. Door hinges of poor quality are generally made of cheap metal such as thin iron, and require a strong pull to open/close the door, and even have a harsh sound. This is because small manufacturers use poor-quality metals to make hinges in order to reduce costs. Therefore, when buying door hinges, it is best to choose a trustworthy manufacturer.
·Experience the hand feel
When choosing a door hinge, the sense of use is also one of the important factors to judge the quality of the hinge. Different hinges have different characteristics, and when you use them, they feel different in your hands. Generally speaking, a good quality hinge has a softer force when opening the door, and the rebound force can be said to be very uniform, while a low quality door hinge does not have this feature.
The hinge is an important part of the door, and we have strict control over the quality of the products. Therefore, our door hinges are characterized by high quality, durability and rust resistance, so you can buy them with confidence. At the same time, our door hinges can be customized according to your size and model.If you want to know more about door hinge information or services, please click here.
Contact us Now:

David Jian
Mob:0086-139 2903 7292
Email: David@dndhardware.com, sales@danddhardware.com,

Jobby Zhang
Mob:0086-137 2599 9617
Email: jobby@dndhardware.com